6:27 PM
I want these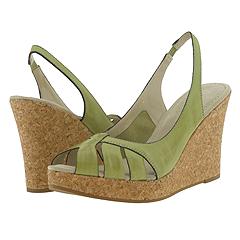 7 comments
7 Comments:
Have you heard.......there's a flashmobcatwalk in London in July or August....come and wera your pretty shoes!....or at least join the debate.....take a loo at http://flashmobcatwalk.blogspot.com...everyone will be there, yes everyone...you don't need a ticket or to be a certain shape or size....so keep looking....
Those are really cute. Cork platforms are so hot right now. I was looking at a similar pair in pink :)
-Alison of www.mables.com/blog
Hmm.. I dont really like wedges as they make you walk around like an idiot carrying a gazillion pounds of wood on your feet, which you basically are and they're a bit hard to wear pants/skirts to suit. :(
Guess everyone has their own tastes :D
OMG! I love these shoes. The remind me of a pair I recently bought from emoda.com. Their cork screw sandals from Charlotte Ronson. Sooo cute!
i abosolutely love wedges. there comfotable and easy to walk in. I love em. Im 5'2 and most wedges wont have you towering over people when you wanna be tall.
I love these shoes to. They remind me of a pair of Charlotte Ronson wedges I have. I love wedges. They are easy to walk in and quite stylish. You can wear them with jeans, pants, skirts, or dresses. The wedge I have are brown I wore them with the cutest high waisted skirt and white tank. I know sounds kinda blah, but Accessories, Accessories were key tho this stuntin get up. Has anyone checked out this site called emoda.com ? They have cool looks for the summer.
So many wonderful dresses waiting for your option if you want to be a beautiful lady,please choose our dresses.minel dresses for night clubs reviews
---